Aquí todos los álbumes, juegos y demás material disponibles del Comiket 83 (C83) para ustedes, gracias infinitas a todos los que hacen posible esto. ¡Disfruten!
Cualquier error, link roto, entrada faltante, álbum repetido, etc ¡POR FAVOR COMENTAR EN LA ENTRADA CORRESPONDIENTE O EN ESTA PÁGINA!
Búsqueda de entradas con el tag C83 (se irán actualizando constantemente, asi que ¡estén pendientes!) haz clic en Reimu: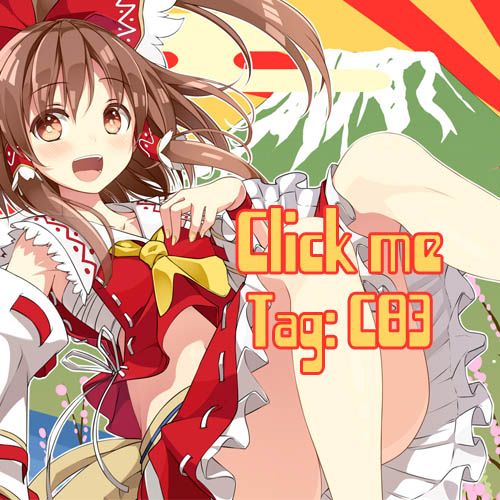 ---
¡Importante!
En este Comiket 83 nos encontramos con que se han distribuido álbums transcodificados de baja calidad a alta (128kbps a 320kbps). Por eso vamos a colocar una lista con los CD que codificamos nosotros, a partir de lossless, o aquellos que estamos seguros de su veracidad. Lo sentimos pero sólo queda como opción a que bajen nuevamente TODOS estos álbums (sin excepción). Aclaración: sólo mencionamos los álbums publicados por nosotros, al día primero de enero del corriente, ya que se ven afectados otros más.
--------------> Lista <-------------->
---
Lista de música por género:
Como novedad vamos a probar la siguiente lista que contiene casi toda la música filtrada por género. Se actualizará constantemente.
• Juegos
[苺坊主 / Strawberry Bosse] 東方カードモンスターズ ~ Phantasmal Summoners
[ちゆうどう] 幻想の系譜 ~はじまりの巫女~
[ZWEi] ソウルアンカー2 / Soul Anchor 2
[コココソフト / Kokoko Soft] メイドさんクライシス - The Elegant Region Power -
[コスプレ喫茶娘々 / Cosplay Kissa Nyan Nyan] 東方爆裂遊戯 / Touhou Bakuretsu Musume
[はちみつくまさん / Hachimitsu-Kumasan] 東方反逆劇 / Touhou Hangyaku Geki
[GEN] 紅魔の鍵 / Kurenai Ma no Kagi
[Shiso No Ha] USC ~Ultimate Sunflower Creation~
[Neetpia] とうほう☆ストラテジー~LotusCraft~
[UTG Software] すわこちゃんのぱっちぇりす / Suwako Chan no Patcherisu
• Trance / Techno / Electro / House / DnB / Eurobeat / Chiptune
[PURE-POLLUTION] Sweet Embrace
[QUINTET] Nexus 8
[SuganoMusic] 東方アレンジ Vol.1.1
[SuganoMusic] Original EUROBEAT Vol.1
[Lost Garden] Luxurious Cattail
[Rolling Contact] Progressive Starbow 2
[EastNewSound] Auxiliary Brightness
[Innocent Key] Innocent Key the BEST
[Magical Hazard] 向日葵アンティール
[T.Piacere] Drizzle Doll
[556ミリメートル / 556mm] Precious -Singing Beautiful Girls-
[EastNewSound] Blaze Out the Instrumental
[幽閉サテライト / Yuuhei Satellite] 濡れた髪に触れられた時
[Amateras Records] Emotionally Resonance
[Amateras Records] Amateras Records Exclusive Disc 2012 Winter
[こなぐすり / conagusuri] Cluster Amaryllis
[ShibayanRecords] Mágico Catástrofe
[LiLA'c Records] with GOD
[signum/ii] effulgent SiGN
[ZYTOKINE] Double Key
[A-One] TOHO EUROBEAT VOL.7 MOUNTAIN OF FAITH
[俺++(Includeore)] 標 -MILESTONE-
[荒御霊 / AramiTama] HARD TECH SPELL THIRD
[荒御霊 / AramiTama] SpellTech8
[DiGiTAL WiNG] Frozen Traveler
[DiGiTAL WiNG] JULIANA'S TOHO vol.2
[Sound Ave.] Accumulation
[Halozy] Snow Melody
[Pocket AD] テクノ・アンドロイド
[星屑コンテナ] Etude II
[ALiCE'S EMOTiON] OverDrive
[ALiCE'S EMOTiON] Evolution RED
[鶯壱里 & 刻刻音樂館 / Uguisu Ichiri & Gizagiza Ongakukan] 夢満ちゆ
[Alstroemeria Records] DOMINATED DANCEHALL
[はちみつれもん / Hachimitsu-Lemon] Light Night Beat 2
[Cubic Loop records] Is anyone there?
[fractaleline] ナナイロチック
[9bit Log!Q+] Encyclogic
[2nd Flush] む・り・や・り
[Yonder Voice] Lunatic Heavens
[Flowin'line] Imperishable UK Groove! Truth Moon Ver
[居酒屋さん] Dust Noise
[BubbleRecords] Graduation -Angel Beats! remix-
[武蔵野電機製作所 / Musashino Electric Works] 水晶鳴琴幻奏~Imaginary Crystal's Voice
• Hardcore / Hardstyle / Makina / Gabber / Speedcore / Schranz / ...
[KINZOK ON] 2012 Winter
[Sharp Eight] DOWN
[Rolling Contact] u gotta party EP
[Login Records] Vague Insanity
[HAL-SAME] leiunium Susiecivus
[ネコノツカ] Femto Fiber
[WhiTECHNO] 東方ULTRADRIVE
[HEKATONCHEIR BEATS] Far East Collapse Assault
[dennoh-STYLE] Club in the XANADU
[CODE-49] Bon Voyage!!
[Snow*Mark] Ogre's HARDCORE
[恋色屋/Black Onyx] Superstar Anthems
[音召缶 / OTOMEKAN] C83 会場特典 Instrumental Trax Disk
[音召缶 / OTOMEKAN] Insane Adversary
[音召缶 / OTOMEKAN] Sound Domestic Colony
• Rock / Pop / Hip-Hop / R&B / Denpa
[羽っ鳥もさく共和国 / Republic of Mosaku Hattori] Priere
[あ~るの~と / R-note] 東方蓬千響 ~Trap of Labyrinth~
[あ~るの~と / R-note]
Comic Market 83 R-Note おまけCD
[UI-70] Paradigm Shift/Paradise Lost
[minimum electric design] TRAIL
[梶迫小道具店 / Cajiva's Gadget Shop] borderline
[hajime -saku-] Zero
[little white snow] Last Layer 2
[猫ちゃんカンパニー] Toho All Green
[布教我音] Innocent Thirst
[子猫奪回屋 / Konekodakkaiya] Crossroad ~幻想巡会帖~
[As/Hi Soundworks × 梶迫小道具店] TRAVEL MAP
[sound sepher] 東方幻奏祀典10"Kalpa"
[IOSYS] ROCKIN'ON TOUHOU VOL.1
[TatshMusicCircle] FAR EAST OF EAST -VIII-
[凋叶棕 / Diao ye zong / RD-Sounds] 辿 (tadori)
[セブンスヘブンMAXION / Seventh Heaven MAXION] Former Frontier 4th luxuriant
[回路-kairo-] 8magics to kill the gods
[Attrielectrock] du Cafe'tre
[発熱巫女~ず / hatsunetsumiko's] Aria of Innocence
[TUMENECO] Re.TMNC
[Aftergrow] URBANIZEDSTEREO
[C-CLAYS] 聖謐 Sei-Hitsu
[K2 SOUND] 光ノ朝 -ミツノアサ-
[SOUND HOLIC feat. 709sec] Moon Crusher
[monochrome-coat] nyanco
[ORANGE★JAM] asterism
[午前四時 / Gozen Yoji] Helmholtz
[暁Records / Akatsuki Records] LAST DESTINY
[鶫 -tsugumi-] Ark dark half
[Re:Volte] Glodiolus
[サリー / Sally] PYGmalion
[FELT] Ground Snow
[Echoez] Future Logic
[Arte Refact] 幻想遊歌抄 - Fantastic Live -
[GET IN THE RING] Alter Ego
[GET IN THE RING] "Activity" Case:01 -Graveyard Memory-
[はちみつれもん / Hachimitsu-Lemon] Dear Story
[猫ちゃんカンパニー] Toho All Green
[豚乙女 / Buta-Otome] 東方猫鍵盤6
[豚乙女 / Buta-Otome] ひかり
[Liz Triangle] 冬蛍
[アカフエテリア] ネツゲンe.p
[岸田教団 & THE明星ロケッツ / Kishida Kyoudan & The Akeboshi Rockets] ロックンロールラボラトリー
[SYNC.ART'S] LIMIT BREAK
[SYNC.ART'S] MA CHÉRIE
[舞風 / MAIKAZE] 東方夢想夏郷2話・テーマソングアルバム
[豚乙女 / Buta-Otome] チェス
[東京エクスペリメンツ / Tokyo Experiments] 紅ノ宴
[しすぷれ / Sister's Spread-i -] SPIRAL FAKE
[TaNaBaTa] Star Ocean e.p.
[直立不動で愚者の認定を受ける] 水鏡写戯者、詠再出立 ~飛沫如跳、蒼閃光如駆~
[Hachimitsu-Kumasan / はちみつくまさん] 東方交戦劇
[Daylight music] 東方朝日音楽
[猫柳 -nekoyanagi-] 東方詠紅符 ~The Scarlet Desire~
[MAKKA CHIN KIKAKU / マッカチン企画] 黄昏ブラインド
[THE二次元集権国家ズ] 神々が恋したロックナンバー
[Holiday Laboratory] LEGEND
[天然ジェミニ / Tennenjemini] 東方SNOW FESTA
[明治大学東方project研究機構 / MUART] 幻想聖夜縁起 -Fantasic Winter-

• Hard-Rock / Metal / Gothic
[Unlucky Morpheus] Parallelism・β
[IRON ATTACK!] BURN IN HELL
[黒ヶ音研究室 / KuroganeLab.] LIGHTNING MIRAGE II
[Barrage Am Ring] Barrage Am Ring 2 Original/Side
[5150] シンフォニック東方Ⅵ
[Kissing the Mirror] FALSE ADMINISTRATOR
[Bloody Sword] 東方自傷録
[Live House S.S.H & Aether] Frenzy Frenzy
[BLANKFIELD] At The Termination Of The Phantasm
[ユウノウミ / Younoumi] Toho Warfare:BLACK ONYX
[天然ジェミニ / Tennenjemini] Toho Warfare:RED BERYL
[A-HEAD] 残響、彼岸過迄。
[Unlucky Morpheus × UNDEAD CORPORATION] Parallelism・γ
[AGENT 0] Mechanical Genocide and Empiric
[White Elephant] 月下狂宴
[死際サテライト / SHINIGIWA SATELLITE] THE FORGOTTEN EP
[MisteryCircle] 現世メランコリイ
[LA KIA] 奏命想起
[Demetori] Tendre est la Mort
[Pizuya's Cell] Nouvelle Mariee
[Kraster] 魔女と林檎と彷徨う君と
[まぐなむお~ぱす / Magnum Opus] 風祝と神様のさいしょの物語 -Preview-
[死際サテライト / SHINIGIWA SATELLITE × 9bFOX] MORSE EP
[Draw the emotional & Foreground Eclipse] Seated With Liquor
[SOUTH OF HEAVEN] EAST METAL POPSTAR
[CROW'SCLAW] Four Resolutions
[Xenoglossy] distorted incident
[SILENT DIFFERENCE] INVISIBLE CORE
[スパイラル小町 / Spiral Komachi] 東方厨でも恋がしたい!
[ぼっち合同] 東方ぼっち合同 13 Green Eyed Monsters
[世の漆黒] デカダンス・ヴァニラ
• Classical / Orchestral / Traditional / Piano / Folk / Jazz / BGM / Ambient ...
[趣味工房にんじんわいん / Hobby Atelier Carrot Wine] 東方ゲームショウ 2012 in 東方ビックサイト
[とほほ お~けすとら / Tohoho Orchestra] STAGE4
[AQUA STYLE] 悠久フォークロア-Eternity Folklore-
[Rolling Contact] 東方俗楽譚 -其の参-
[うんちく商事 / UnchikuCompany] 想秋符 -Soh Shu Fu-
[PHOENIX Project] ReiMei -黎明- 3
[unisonia] 水の都のオートマタ
[As/Hi Soundworks × 第九分岐点] ピアノのための東方小品集 Op.4「咎桜」
[souvenir circ.] 華の茶会 ~舞華蒼魔鏡音楽集~
[凋叶棕 / Diao ye zong / RD-Sounds] 誘 (izanai)
[OrangeCoffee] The Lounge Map1 - morning coffee set
[Ma-Hi-Te] 寒くなってきたのでそろそろ冬眠を検討しよう
[TAMUSIC] 幽雅な東方子守唄
[SWING HOLIC] SWING HOLIC VOL.10
[彩音 〜xi-on〜] 風彩旋律 -ふうさいせんりつ-
[DDBY] 二人の演奏会 -鳥船遺跡からの帰り道-
[Unprepared Orchestra] 西行マヤカシ
[こもど~ね / Comodone] cresc.
[ボストン東方樂団 / Boston Touhou Gakudan] Sakura Nocturna
[thj.quartet] Jazz Funk
[狐の工作室 / Kitsune's Workshop / Fox Factory] Rainy Frame
[flap+frog] FLOWERs:1
[Tutti Sound] 東方映画音楽選 - TOHO FILM MUSIC SELECTION - ~ 妖楽記
[オーライフジャパン / O-LIFE.JP] 壮快廟探訪
[まらしぃ / Marasy] 幻想遊戯<地>
[和妻悉皆屋] 和楽東方撰
[Mameya / 豆屋] 東方絶望浪漫
[Assaultdoor] Dominant World
[COOL&CREATE] 東方インストライク
[Eurystomus] Hediard
[Machikado-Mapoze (街角麻婆豆)] 舞踏会のドスコナウォシチ(DOSKONAŁOŚCI Z TANCEREK )
[Floating Cloud] Floating Cloud C83 Special
[a-TTTempo] 幻想現紀行
[Pilsner] Full Open
[Unity-Gain] Swingin' Scat Street
[ロクプラス / Roch Plus] 東方玲宝陽
[ごんばこんなか] 小傘アンビ
[素敵ロジック / Suteki Logic] 魔法使いたちの夜
[クマノヘヤ / Kumanoheya] 東方多重声 ~カケラ~ Ⅲ
[狐兎疋 / Kotohiki] 琴歌酒賦
[さーくるばんばんしー] 秘封日和-ひふうびより
[村里翔太の音楽堂 / Studio MURASATO] 環天頂のボーダーブレイク
[Jazzy Onion] Toho Jazz Outlet Park vol.2
[CHRONOS RECORDS] 空と海の鏡界
• Various
[Toranoana] 東方魔法少女 アルティメット☆れいむ
[Toranoana / とらのあな] 東方幻奏響REVIVAL-TOUHOU PROJECT Best Compilation Album-
[領域ZERO] 東方空宴歌-SAI-
[Foxtail-Grass Studio] つきかげクオリア
[魂音泉 / TAMAONSEN] Sky is the Limit
[魂音泉 / TAMAONSEN] 魂音泉別館 -壱零-
[TAMUSIC] 東方弦奏歌-LAZERAZE-
[SOUND HOLIC] 風神 -FUUJIN-
[Lapis moss] Snow Fantasia
[東京アクティブNEETs / TOKYO Active NEETs] 東方サウンドRPG Another History ~異幻想史~
[全自動少女 / Automata Girl] 櫻雨キネマトグラフ
[LUCIOLE*CAFE] CRADLE FOR~
[SOUND HOLIC] 東方PVD4
[豚乙女 / Buta-Otome] PVD(Pig Video Desu)
[さんぼん堂 / Sanbondo] 幻想少女大戦妖 OST
[Crest] Drive to Arrive
[Sound CYCLONE] 東方モテタイ2012
[WAVE] Gate of AVALON
[Blatte] 花のうた
[スタジオネネム / Studio Nenem] maternal affection
[幽幻屋] N
• Drama / Audio Novel
[Earl Gray / アールグレイ] にとり音頭
[Earl Gray / アールグレイ] フラ恋
[Earl Gray / アールグレイ] レミ恋
[Earl Gray / アールグレイ] 藤原妹紅のDOKIDOKIディスク
[Mameya / 豆屋 ] 幽香の添い寝CD
[奏空音戯-melodious noises] 東方帰暖家
[V.A.] ある永い夜のまほう
Thanks to
Silvansan
for making the list :D